Calling all Musqueam artists! The province has a very exciting opportunity available to design two pieces for the new Pattullo Bridge.
Note: As of October 18, there was an addendum released that extended the deadline to October 27.
About the Patullo Bridge & significance of area
The Pattullo Bridge crosses the North Arm of the Fraser River between Surrey and New Westminster. The original bridge is being replaced with a new 4-lane bridge just upstream and northeast of the existing crossing.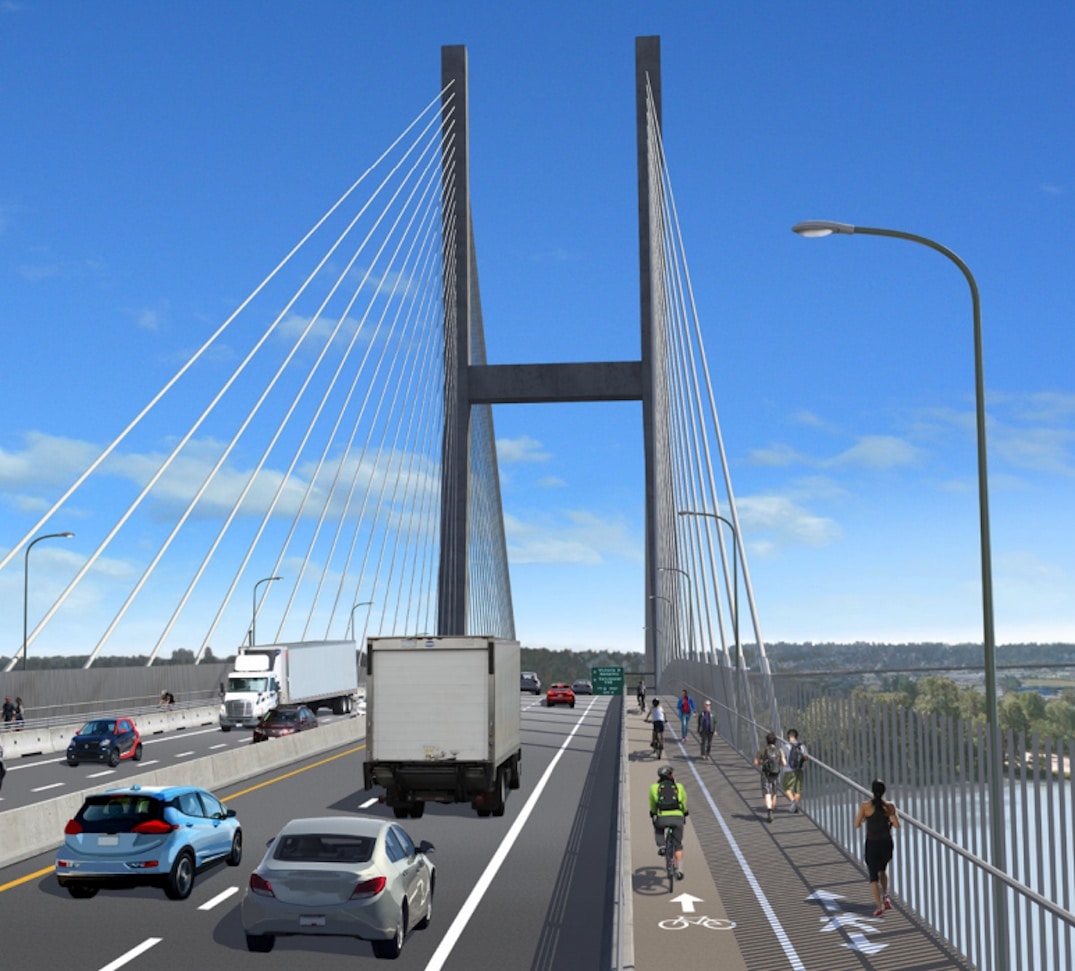 For generations, the area known as New Westminster has been a gateway and access point with a number of named sites for Musqueam and Kwantlen Nations.
One critically important site is qiqéyt, a fishing village that existed since time immemorial on the lower stɑl̓əw̓. It was a central location where several activities took place, including fishing, dwelling, gathering and trade. Given the significant connections to qiqéyt, Musqueam and Kwantlen are working jointly on the most prominent art opportunities for the Pattullo Bridge Replacement Project.
Project specifications
The Pattullo Bridge Replacement Project is seeking to commission Musqueam artists for the design of two large art pieces on the new bridge:
Lower Tower Leg

Artists are asked to reflect the themes of harvesting, and the intergenerational aspect and diversity of harvesting on the Fraser River in the vicinity of

qiqéyt

.

Upper Tower Medallion

Artists are asked to reflect the themes of family and kinship as gateways to the territory, tying us together in place.
The downstream locations will be Musqueam art, while the upstream locations will be Kwantlen art.
Eligibility
Artists can submit for one or both art pieces. This opportunity is open to both emerging and established Musqueam artists.
Youth and emerging artists are encouraged to submit applications, and/or work with established artists on joint submissions or as part of an artist team.
Artist(s) selection will be undertaken by a panel of cultural experts from Musqueam and Kwantlen and a representative of the project.
Submission requirements
The following information is required for artist submissions:
Cover letter
Letter of interest
Approach to project
Artist resume
Past work
Digital images and descriptions
Compensation
Update October 18: Compensation information for artists is now available:
Lower Leg: $ 60k
Upper Tower Medallion: $50k
Emerging Artist funding: Should an artist team be selected with emerging artist involvement, an additional $10,000 will be provided to support mentorship, proposals, portfolio, capacity skillset, etc.
Deadline
Submissions due: October 20, 2021 October 27, 2021 at 5pm
Shortlisted artists selected: November 1, 2021
Final designs and maquette presentation: November 30, 2021
*The ability to work within the timelines will be considered in artist selection process.
Information Session
An online information session will be hosted on October 13, 2021 from 6:30-8pm.
To attend, contact Erin LaRocque, [email protected], [email protected], or simply click the below zoom link at 6:30pm on October 13.
Join Zoom Meeting: https://us02web.zoom.us/j/81350850794?pwd=ZnFidHZHOWdoa3V0dXlzK0hiVmtrdz09
Meeting ID: 813 5085 0794
Passcode: 007138
One tap mobile: +17789072071,,81350850794#,,,,*007138#
Contacts
Email submissions to: [email protected]
For questions about the opportunity or request for proposals, please contact Erin LaRocque, Musqueam Intergovernmental Affairs Coordinator, [email protected]
For more information on the history of qiqéyt, please contact Musqueam Archives at [email protected] to inquire about borrowing books, reports, or other ethnographic sources to assist with developing your project idea, if required.