Musqueam Community Update on COVID-19
Cases of COVID-19 are still rising in BC. Here is an update with the latest number of COVID-19 cases in BC and related news for Musqueam community members.
COVID-19 in British Columbia
294 new cases in BC between August 28 – 31
58 new cases reported on Sept. 1
1,124 active cases in BC
2,761 people under active public health monitoring
31 individuals hospitalized with COVID-19
4 deaths since August 28
208 deaths total
Today, the state of emergency in BC was extended to September 15 to continue the province's COVID-19 response.
There are still no cases of COVID-19 at Musqueam. We must continue working together to keep it that way. Please physically distance, wear a mask or face shield when you are in public, wash your hands regularly and stay home if you are sick.
First Nations with COVID-19 cases
As of Tuesday September 1, Squamish Nation (SN) reported 25 cases within both the North Shore and Squamish Valley communities. All Squamish Nation offices are closed. There is no need to panic. SN is working with Vancouver Coastal Health and the First Nations Health Authority (FNHA) to confirm cases and provide updates. Public health officials are in daily contact with confirmed cases and undergoing extensive contact tracing. All cases remain connected to the original cluster of cases. People who came into contact with positive cases are in isolation. The case count is only for First Nations residents on reserve.
To stop the spread of COVID-19, people must isolate from others if they:
test positive
live with someone who tested positive
are awaiting COVID-19 test results
A northern First Nation is also dealing with COVID-19 cases within its community. The Nisga'a Valley Health Authority (NVHA), FNHA, and Northern Health region issued a joint alert for anyone in the Nass Valley who may have attended recent gatherings between Aug. 21 and 25. Any gathering attendees are asked to contact the NVHA clinic and if symptoms develop, to immediately self-isolate.
Staying Safe & Protecting Each Other
We are entering the next phase of the COVID-19 pandemic in BC along with the regular cold and flu season. It is time we regroup,  prepare and refocus our efforts to keep the number of new cases low and slow. This means using our layers of protection (see below image) and making them a part of our daily lives.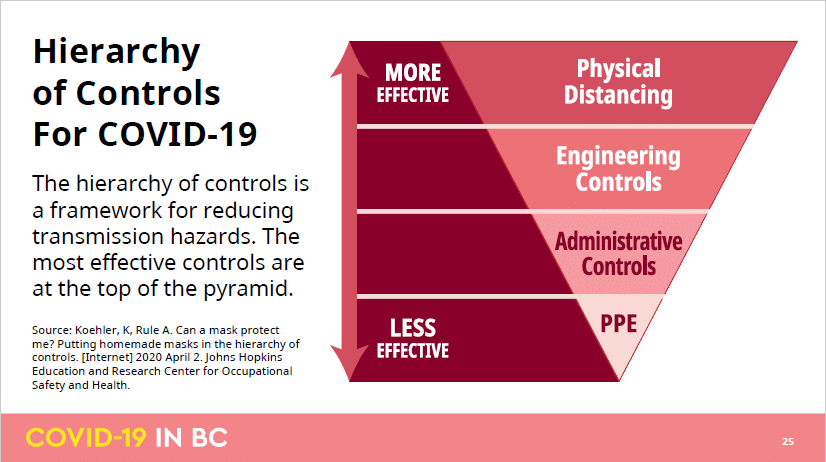 Tips for keeping each other safe:
Maintain a small social bubble

Wear a mask when you are inside and in close contact with people

Disinfect frequently touched surfaces

Respect other people's boundaries and give them space to stay safe

Remind family members and friends – we need to take care of each other. Now is not the time to visit in person.

It is hard to tell the difference between allergies, a cold, the flu and COVID-19. Please stay home if you are sick and protect everyone around you.
"We need to each do our part and support public health teams to quickly manage new cases so we can contain the spread of the virus and ensure community spread remains low," said Dr. Bonnie Henry
Tickets for Violating Public Health Orders
On Friday, Aug. 21, police and other provincial enforcement officers were given the ability to issue $2,000 violation tickets for owners or organizers breaking the provincial health officer's (PHO) order on gatherings and events.
For individuals, $200 violation tickets can be issued to those not following the direction of police or enforcement staff at events, or who refuse to comply with requests to follow safe operating procedures of a restaurant, bar or other licensed establishment, or respond with abusive behaviour towards employees.
In the first week of these new enforcement measures (Aug. 21-28), 10 violation tickets were issued. This includes six $2,000 violation tickets for contraventions of the PHO's order on gatherings and events, and four $200 violation tickets issued to individuals.
Learn more about the Vancouver Police Department's approach and how to contact them on the City of Vancouver's website.
COVID-19 Symptoms
Because of our close relations to Squamish Nation, we ask that anyone that came into contact with anyone from Squamish monitor for COVID-19 symptoms.
If you notice symptoms, please isolate and get tested. Symptoms include:
Fever
Chills
Cough, or worsening of chronic cough
Shortness of breath
Sore throat
Runny nose
Loss of smell
Visit the BCCDC's website for a full list of symptoms. If you live on reserve and are experiencing symptoms, please call the Community Health Nurse at 604-362-9200.
COVID-19 Resources
For the latest medical updates, including case counts, prevention, risks and testing, visit: http://www.bccdc.ca/
Community exposure events
BCCDC (flights, work sites, etc.): http://www.bccdc.ca/health-info/diseases-conditions/covid-19/public-exposures
Fraser Health: www.fraserhealth.ca/covid19exposure
Interior Health: https://news.interiorhealth.ca/news/public-exposures/
Island Health: https://www.islandhealth.ca/learn-about-health/covid-19/outbreaks-and-exposures
Northern Health: https://www.northernhealth.ca/health-topics/outbreaks-and-exposures
Vancouver Coastal: http://www.vch.ca/covid-19/public-exposures
For non-health related information, including financial, child care and education supports, travel, transportation and essential service information, visit: www.gov.bc.ca/covid19
Or call 1 888 COVID19 (1 888 268-4319) between 7:30 a.m. and 8 p.m. (Pacific time), seven days a week.
For the latest videos and livestreaming of COVID-19 media availabilities, visit: