COVID-19 Resources and Information
Musqueam leadership and administration are working together to ensure that our community is prepared and supported during the COVID-19 pandemic.
The Musqueam administration office has been closed since the beginning of COVID-19. All but essential staff have been instructed to work from home during regular working hours. Traffic information checkpoints are operating at entrances to the main Musqueam reserve (IR 2) and access is still limited to Musqueam members, residents, staff and essential services.
Protect our Elders from COVID-19
The best ways to prevent the spread of COVID-19 are to:
wash your hands often with soap for 20-seconds
disinfect high-touch surfaces regularly
stay home if you are feeling sick
maintain physical distance from people outside of your bubble (keep at least a 2 metre distance/6 to 10 feet from everyone)

Musqueam Values during COVID-19
In challenging times, it is important for us, as Musqueam people, to turn to our community values and shared vision for our future. This is especially true now, while the world responds to the very serious threat of COVID-19 and we work to keep all of Musqueam safe.
As a close-knit community with a vulnerable population, we must follow public health regulations to ensure a bright future for generations to come. We must also be guided by the wisdom and teachings of our Elders and ancestors, and remember that our individual actions will impact our community around us.
Resources for Musqueam Members
Musqueam is coordinating our emergency response to COVID-19 on an urgent-needs basis. Our priority is to support the health and safety of our members, especially members within vulnerable populations, and we are providing direct supports when possible (resources and capacity permitting).
If you need support, contact Musqueam Administration and request an essential supplies request form.
Musqueam COVID-19 Hotline — 604-269-3444
Funds are available to respond to specific needs of families who are eligible for income assistance, disability assistance, medical services or hardship assistance. Eligibility is determined according to criteria set out by the federal and provincial governments.
Quick Links
Latest COVID-19 updates on the Musqueam News page
Musqueam COVID-19 Community Report (Summer 2020)
Musqueam Health
The Primary Care Clinic is open for telehealth appointments for patients of the clinic. Call 604-266-0043 to make an appointment.
Contact the Musqueam Health to report potential exposure to COVID-19 and immediately isolate. This includes if you feel ill with mild symptoms or have returned home from ANY recent travel.
If you have COVID-19 symptoms, do not show up unexpectedly to the clinic for testing.
First, complete BC's COVID-19 Self-Assessment Tool at thrive.health/covid19 to determine if your symptoms could be COVID-19 related.
Second, call the Community Health Nurse (604-362-9200) for an in-depth assessment over the phone. The nurse can assist with setting up a test if needed.
Call 8-1-1 (HealthLink BC) if you need to speak with someone outside of clinic hours or are unable to reach the nurse.
Musqueam Primary Care Clinic: 604-266-0048
MIB Community Health Nurse: 604-362-9200
HealthLink BC: 8-1-1
Musqueam Safety and Security
Patrolling the community from 4pm – 8am, seven days a week.  Receives calls and responds to safety and security concerns from community members and leaseholders.  Currently operating COVID-19 information checkpoints at entries to IR 2.  Manager is on call weekdays from 9am to 5pm.
MIB Safety and Security Patrol – 604-968-8058
Musqueam Social Development
Financial Aid Workers provide financial support to eligible adults and their dependents living on reserve. During COVID-19, additional targeted supports are available to those in need.
Leanne Hensel
[email protected]
Michele Point
[email protected]
778-991-1284
Social Workers support families interacting with provincial authorities (MCFD, Justice, Family Law, etc.) that involve or directly impact Musqueam children and families living on or off reserve.
Terry Carroll, Social Worker
[email protected]
Safehouse – provides temporary housing and wrap around supports for Musqueam children and their families whose immediate safety is at risk.
Christina Campbell, Coordinator
[email protected]
604-558-4677
Musqueam Employment and Training
Supports Musqueam members seeking employment or training opportunities. Services include: essential skills assessments, job placements, practical supports for members starting a new job (e.g. work gear, tools, transportation, mentorship, childcare subsidy), post-employment supports and counselling, access to training and related supports, and referrals to other community resources.
During COVID-19, staff may also be able to provide some targeted assistance to members if you need help applying for financial assistance.
Terry Sparrow, Interim Manager
[email protected]
Courtney Copoc, Job Coach
[email protected]
604-916-8579
Joanne Kern, Essential Skills and Mentor Coordinator
[email protected]
604-369-7660
Musqueam Housing
MIB staff and external contractors / technicians continue to make emergency or urgent house calls only, while ensuring that physical distancing is maintained.  All requests for home repairs or support will be screened and prioritized as they come in.
Emergency or urgent housing repairs: 604-269-3381
Lorna Stewart, Manager
[email protected]
604-562-9115
Musqueam Public Works
The public works department continues to maintain our community's physical infrastructure (such as water, sewer, storm drainage, road systems, community buildings and grounds – including our parks and sports fields) with core staff.
Norman Point, Manager, Public Works and Community Infrastructure – [email protected]    604-269-3376
Public Works emergencies / urgent concerns after-hours: 604-841-9295
Musqueam Education
Questions about education support (from kindergarten to post-secondary) or technology support needs (during the school year) can be directed to the Education Department.
Faye Mitchell, Manager
[email protected]
604-263-3261
Staying Safe & Protecting Each Other
We are entering the next phase of the COVID-19 pandemic in BC along with the regular cold and flu season. It is time we regroup,  prepare and refocus our efforts to keep the number of new cases low and slow. This means using our layers of protection (see below image) and making them a part of our daily lives.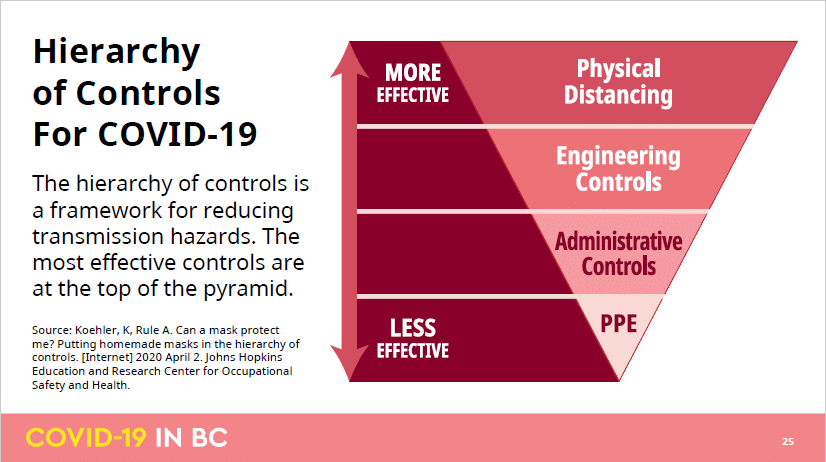 Tips for keeping each other safe:
Maintain a small social bubble

Wear a mask when you are inside and in close contact with people

Disinfect frequently touched surfaces

Respect other people's boundaries and give them space to stay safe

Remind family members and friends – we need to take care of each other. Now is not the time to visit in person.

It is hard to tell the difference between allergies, a cold, the flu and COVID-19. Please stay home if you are sick and protect everyone around you.
"We need to each do our part and support public health teams to quickly manage new cases so we can contain the spread of the virus and ensure community spread remains low," said Dr. Bonnie Henry
COVID-19 Symptoms
Because of our close relations to Squamish Nation, we ask that anyone that came into contact with anyone from Squamish monitor for COVID-19 symptoms.
If you notice symptoms, please isolate and get tested. Symptoms include:
Fever
Chills
Cough, or worsening of chronic cough
Shortness of breath
Sore throat
Runny nose
Loss of smell
Visit the BCCDC's website for a full list of symptoms. If you live on reserve and are experiencing symptoms, please call the Community Health Nurse at 604-362-9200.
Tickets for Violating Public Health Orders
On Friday, Aug. 21, police and other provincial enforcement officers were given the ability to issue $2,000 violation tickets for owners or organizers breaking the provincial health officer's (PHO) order on gatherings and events.
For individuals, $200 violation tickets can be issued to those not following the direction of police or enforcement staff at events, or who refuse to comply with requests to follow safe operating procedures of a restaurant, bar or other licensed establishment, or respond with abusive behaviour towards employees.
In the first week of these new enforcement measures (Aug. 21-28), 10 violation tickets were issued. This includes six $2,000 violation tickets for contraventions of the PHO's order on gatherings and events, and four $200 violation tickets issued to individuals.
Learn more about the Vancouver Police Department's approach and how to contact them on the City of Vancouver's website.
Government COVID-19 Resources
For the latest medical updates, including case counts, prevention, risks and testing, visit bccdc.ca
Community exposure events
BCCDC (flights, work sites, etc.): http://www.bccdc.ca/health-info/diseases-conditions/covid-19/public-exposures
Fraser Health: www.fraserhealth.ca/covid19exposure
Interior Health: https://news.interiorhealth.ca/news/public-exposures/
Island Health: https://www.islandhealth.ca/learn-about-health/covid-19/outbreaks-and-exposures
Northern Health: https://www.northernhealth.ca/health-topics/outbreaks-and-exposures
Vancouver Coastal: http://www.vch.ca/covid-19/public-exposures
For non-health related information, including financial, child care and education supports, travel, transportation and essential service information, visit: www.gov.bc.ca/covid19
Or call 1 888 COVID19 (1 888 268-4319) between 7:30 a.m. and 8 p.m. (Pacific time), seven days a week.
For the latest videos and livestreaming of COVID-19 media availabilities, visit: