Musqueam Cultural Centre
4000 Musqueam Avenue, Vancouver, BC, V6N 3S2
The Musqueam Cultural Centre is the original 2010 Olympics Four Hosts Aboriginal Pavilion. This pavilion's brilliant architecture was inspired by the traditional woven cedar hat used by Indigenous people across the region.
The cultural centre serves as a community gathering space, as well as a cultural and learning resource centre, which overlooks the foreshore lands and the Fraser River.
The building contains a front reception area, a gallery/museum, a large multi-purpose room and the Musqueam archives office, which contains our library, oral history recordings and transcripts, and other important materials that help preserve our history.
Rotundra
The rotundra is a large multi-purpose space used to host community and administration meetings, workshops and special events. The rotrundra is available to rent to community and the public. Contact Musqueam Facilities by email [email protected] for information.
Musqueam Gallery
The gallery space houses many of our belongings that help teach our community and the public about Musqueam history and culture.
Included in the gallery is the c̓əsnaʔəm: The City Before the City exhibition curated by Musqueam Member Jordan Wilson and MOA's Susan Rowley. This exhibit was a 2015 collaboration between the Museum of Anthropology (MOA), Museum of Vancouver and Musqueam.
The gallery is currently closed to the public.
Musqueam band and community members can request to visit the gallery by appointment.
School and educational groups can request a cultural walking tour of Musqueam Reserve and the gallery.
Please contact Noreen in Musqueam Facilities, [email protected], for more information on booking.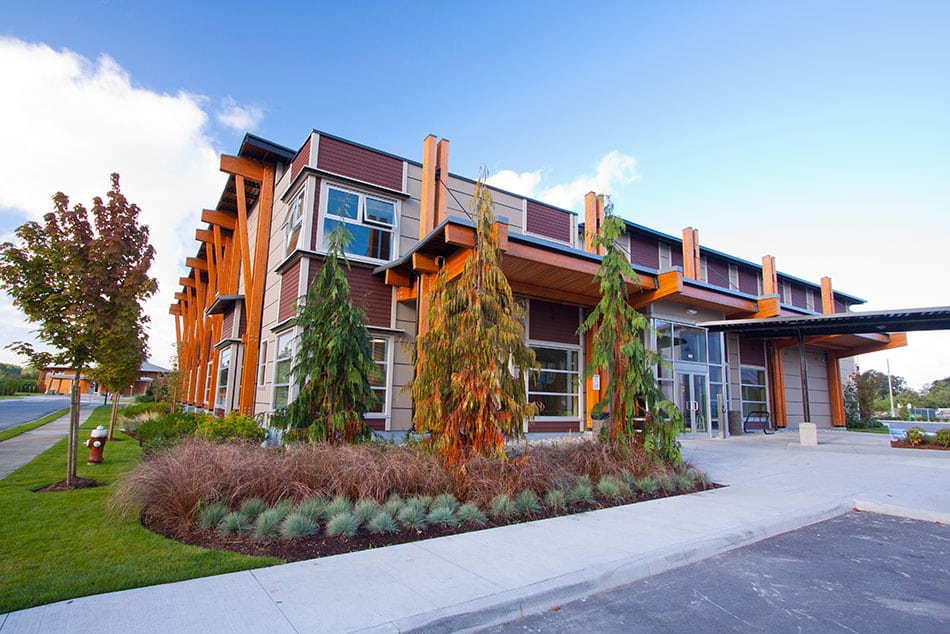 Musqueam Community Centre
6777 Salish Drive, Vancouver, BC, V6N 4C6
The Musqueam Community Centre is a 31,000 square foot multi-purpose facility adjacent to the Administration building and across the street from the Cultural Education Resource Centre. The complex has a full size gymnasium with upper viewing area, a fitness centre, change rooms, a lounge, a youth centre, a full commercial kitchen, classrooms, boardroom, yoga studio and administration offices.
The gymnasium is available to rent to community and the public. Contact Musqueam Facilities by email [email protected] for information.
Musqueam Sports Fields
This state-of-the-art facility was completed in 2015 and consists of two full-sized soccer fields and a club house, complete with changing rooms and multimedia capability. The complex is a symbol of Musqueam pride and sportsmanship. It provides space to develop the abilities of young Musqueam athletes and promotes fitness in the community.
Contact
Facilities Coordinator, Noreen Point – [email protected]