Content warning: This article discusses Indian residential schools and the students who died or went missing.
Last week, Tk'emlups te Secwepemc First Nation announced that the remains of 215 children were confirmed to be buried at the former Kamloops Indian Residential School.
That is 215 children, some as young as three-years-old, who were taken from their families and never returned home.
This announcement impacts Indigenous people throughout BC and Canada. Kamloops residential school was at one time the largest Indian residential school in Canada. Unfortunately, we know there are many more unmarked graves at residential school sites across the country.
For Musqueam, this is an especially difficult announcement. Some Musqueam members attended the Kamloops residential school, including survivors who are still alive today.
"hay čxʷ q̓ə to the Tk'emlups te Secwepemc peoples for their dedicated work to discovering the truth and finding the remains of children who attended Kamloops residential school," said Chief Wayne Sparrow. "Although this is incredibly tragic news, this work is necessary for Canada to fully reconcile with the horrific history of residential schools."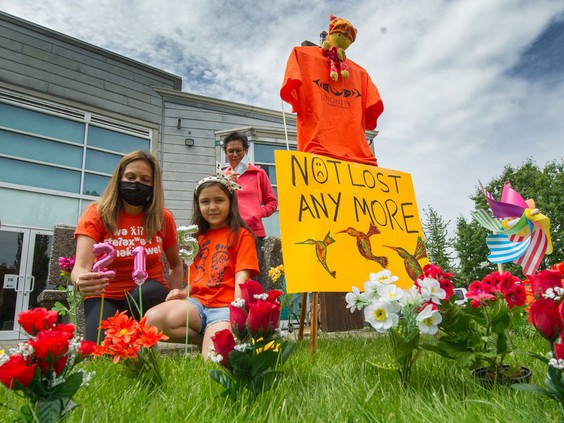 Canada's truth and reconciliation
Almost six years ago, in June 2015, the Truth and Reconciliation Commission (TRC) of Canada released its Executive Summary and 94 calls to action. Their findings came from seven years of documenting the history and lasting impacts of the Canadian Indian residential school system on students and their families.
Call to action #75 calls on governments, churches, Indigenous communities, former residential school students, and current landowners to create strategies for the "ongoing identification, documentation, maintenance, commemoration, and protection of residential school cemeteries or other sites at which residential school children were buried."
From the TRC's website:
"Large numbers of the Aboriginal children who were sent to residential schools never returned to their home communities. Some of these children ran away, while others died at the schools. The exact number of children who died at school may never be known, but the death rates for many schools, particularly during times of epidemic or disease, were very high."
Musqueam joins other First Nations in Canada in calling for further investigation to find the remains of all children who never came home from residential schools.
"Many First Nations across the country are still searching for answers about what happened to their missing loved ones," said Chief Wayne Sparrow. "We are past the point of this issue being debatable. The federal government must immediately support our communities in finding and protecting all unmarked graves at former residential schools."
Community memorials for Kamloops Residential School students
On Monday evening, Musqueam Council paused their regular council meeting to join community in remembering the children who died at Kamloops residential school, and many more residential schools across the country.
The memorial was initiated by Charlene Grant, who placed flowers outside of the band office on Sunday. She asked the community to join her in the hopes of having 215 flowers, one for every child who never came home.
A live stream of the gathering aired on our Facebook page. Click here to watch.
Later in the week, community members came together to line Southwest Marine Drive from Musqueam to UBC with 215 orange shirts.
hay ce:p q̓ə to our community for initiating beautiful memorials across our territory.
hay čxʷ q̓ə, Native Northwest, for donating the shirts, which will be given to Musqueam youth to create their own personalized designs for Orange Shirt Day this year.
hay čxʷ q̓ə to the Vancouver Police Department for providing traffic enforcement and keeping our members safe while placing this memorial along the busy highway.
Need support?
If you or someone you know needs support, please contact:
Indian Residential School Survivors Society
604-985-4464 or 1-800-721-0066 / www.irsss.ca
The IRSSS is a provincial organization with a twenty-year history of providing services to Indian Residential School Survivors, their families, and those dealing with Intergenerational traumas. Services include counselling, health support, and cultural support.
National Residential School Crisis Line
1-866-925-4419 (24hrs)
The NCTR is a place of learning and dialogue where the truths of the residential school experience are honoured and kept safe for future generations. The centre offers a 24-hour crisis line, in addition to maintaining records and a memorial registry to remember and honour children who never returned home from residential school.
KUU-US Crisis Line Society
Adult/Elder Line: 250-723-4050
Child/Youth Line: 250-723-2040
BC Wide Toll Free:1-800-KUU-US17 (1-800-588-8717)
The KUU-US Crisis Line Society is a non-profit registered charity that provides 24-hour crisis services though education, prevention and intervention programs