MUSQUEAM TERRITORY, BC – Today, Musqueam Indian Band and ABCoast Aviation Services announce the signing of a memorandum of understanding (MOU) that creates training programs and eventual employment opportunities for Musqueam members.
ABCoast provides baggage services for Vancouver International Airport (YVR), including system operations, passenger carts and curbside assistance. With this new agreement, ABCoast will partner with Musqueam's employment and training department to provide three progressive training programs in airport operations and skilled labour apprenticeships. The programs enable Musqueam members to learn about careers in the aviation industry and sets a clear track to employment at YVR.
"Musqueam is proud of our relationship with YVR, and of the work our employment and training department has put in over the past few years to increase the number of Musqueam members working at the airport. Through this MOU and partnership with ABCoast, we are deepening this relationship and setting an example of how companies can work with First Nations to create new and exciting opportunities for career exploration," said Musqueam Chief Wayne Sparrow.
"ABCoast is honoured and excited to enter an agreement with Musqueam focused on employment and training in the dynamic industry of aviation. In the signing of this memorandum, we mark the start of a new partnership borne of cultural learnings, which we'll take with us as we continue on the path to truth and reconciliation," said Steve Hall, President of ABCoast Aviation Services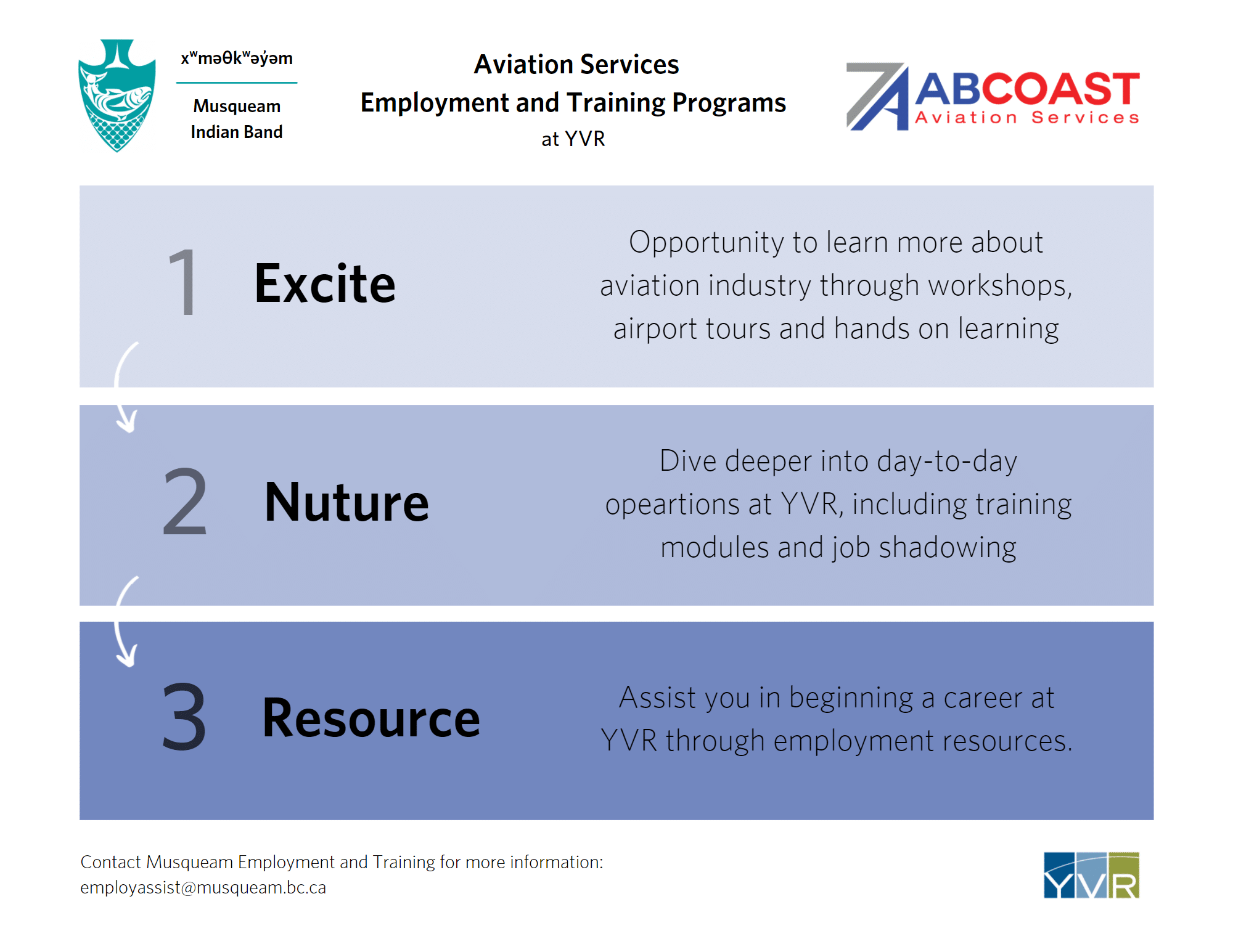 YVR is located solely in Musqueam territory, and Musqueam plays an integral role in YVR's business and operations. In 2017, the two parties signed a relationship agreement that includes support for employment and training opportunities. That agreement has resulted in over 100 Musqueam members finding employment, including 91 who were employed throughout the airport at the end of 2019, prior to the pandemic.
"Bringing together two of our valued partners at YVR – Musqueam and ABCoast Aviation Services – under a new memorandum of understanding marks a historic day for our airport community. In the signing of this agreement, we also share in Musqueam culture and teachings, which collectively moves us forward along the journey to reconciliation," said Tamara Vrooman, President & CEO at Vancouver Airport Authority.
"For Musqueam, this is only the beginning of establishing more partnerships with YVR vendors, in the spirit of our friendship agreement with the airport. We look forward to working with ABCoast over the next year to identify Musqueam members who are interested in the aviation industry and set them up for success," said Musqueam Employment and Training Manager Malonie Langthorne.
The partnership between ABCoast and Musqueam is already underway, with initial program candidates identified and training modules being developed. The MOU commits both parties to 12-months of implementation, with ongoing monitoring to determine effectiveness and plans to review and resign the agreement in a year's time.
-30-
Quick Facts
The Musqueam Indian Band – YVR Airport Sustainability & Friendship Agreement was signed on June 21, 2017. It is a 30-year agreement based on friendship and respect to achieve a sustainable and mutually beneficial future. The agreement includes scholarships, new training and jobs, revenue sharing, identification and protection of archeological resources and support for ongoing operations and long-term development at the airport.
The ABCoast and Musqueam Engagement Program MOU is available to read in full at www.musqueam.bc.ca
The ABCoast and Musqueam MOU outlines 3 progressive training programs:

Excite: Learning about the aviation industry
Nurture: Diving deeper into day-to-day operations
Resource: Connecting to employment
Media contacts
Musqueam Indian Band
Odette Wilson
Communications Officer
236.885.7335
[email protected]
ABCoast Aviation Services
Liam Henry
Business Development Manager
604.355.6817
[email protected]
About Musqueam Indian Band
hən̓q̓əmin̓əm̓-speaking Musqueam people have lived in the Fraser River estuary since time immemorial. We are a proud and culturally-resilient First Nation of over 1,300 members. About half of our members live in a small portion of our territory known as Musqueam Reserve, located south of Marine Drive in Vancouver. Many of the remaining members live throughout Musqueam's territory, now called Vancouver, Burnaby, Richmond, Delta, North Vancouver, West Vancouver and New Westminster. Our lands and waters continue to support our cultural and economic practices, while serving as a source of knowledge and memory, encoded with our teachings and laws.
About ABCoast
A partnership between Coast Industrial Maintenance based in British Columbia, and Aviation Business Continuity located at London Heathrow Airport, ABCoast is a rapidly growing company that focuses on delivering world class customer service in several sectors here at YVR. Established in 2020, at ABCoast we pride ourselves on providing a memorable experience for all guests we come across and uphold our company motto "Above and Beyond" daily.
About YVR
Vancouver Airport Authority is a community-based, not-for-profit organization that manages Vancouver International Airport (YVR), Canada's second busiest airport. We are committed to creating an airport that British Columbia can be proud of: a premier global gateway, local economic generator and community contributor.