July notices from the Musqueam Newsletter, updated throughout the month.
Salish 2Spirit Pride Event
Musqueam is excited to co-host our third annual pride celebration this year on Monday, July 31. Everyone is invited to join and celebrate our two-spirit and Indigiqueer for a community parade, BBQ lunch, performances and more!
Congratulations to NAIG athletes!
All Musqueam athletes representing Team BC received medals at the 2023 North American Indigenous Games in Kjipuktuk (Halifax)!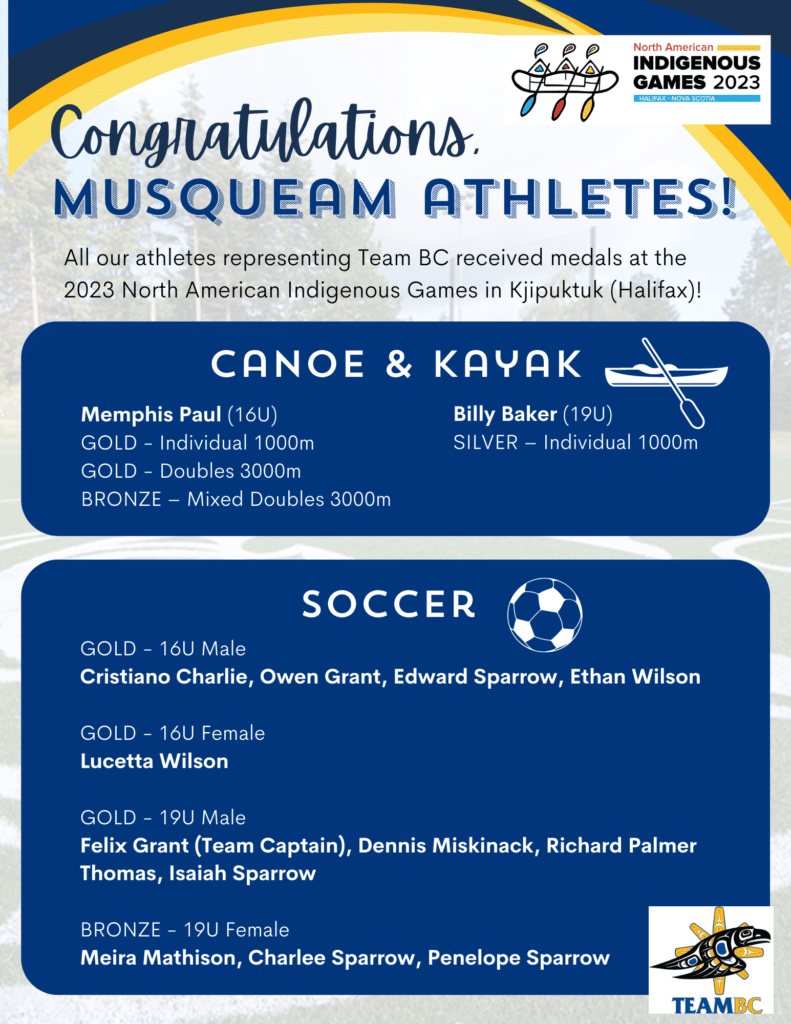 Fire ban and restrictions
The following fires are currently banned within Musqueam Reserve:
Backyard fires (open fire): A fire bigger than 1'8″ (one foot, eight inches) in height and in width and is used by any person for recreational purpose, or by a First Nation for a ceremonial purpose
Campfires (semi-closure): A fire bigger than 1'8″ (one foot, eight inches) in height and in width and is used by any person for recreational purpose
River fires (open fire): Bigger than a backyard fire, close to a dry, grassy area
Japanese beetle bug traps in Musqueam
On Wednesday August 2nd, The Canadian Food Inspectors Agency (CFIA) will be on IR2 lands in order to set up bug traps as part of their ongoing response to the Japanese beetle, Popillia japonica. These traps are being set up to determine if there is a presence of Japanese beetle in the area.
The traps have a floral and pheromone lure. The lure is not harmful to humans, pets, birds or other insects, like bees and butterflies. Since the traps provide important data, CFIA asks that the traps be left alone.
Visit this website for more information about the Japanese beetle, its status as an invasive species and the work CFIA is doing to prevent it's spread in our area.
If you have any questions about this work feel free to reach out to the CFIA contact Scott Sawa at 431-777-8930 or email [email protected]
More Cowbell & Walk This Way: Housing Event
Summer Mini Musqueam 101
Self-Government and Rights Recognition — BBQ Dinner
Come Toward the Fire Festival
Musqueam and the Chan Centre for the Performing Arts at the University of British Columbia are excited to collaborate again on the second annual Indigenous festival, ʔəm̓i ce:p xʷiwəl (Come Toward the Fire). This one-day festival is happening on Saturday, September 16 with free programming during the day, and an evening concert that is free for Indigenous people.
There are opportunities for:
Musqueam performers
Musqueam artisan vendors
Indigenous food vendors
Click here to read the full post.
UBC Gateway artist opportunities
There are six large-scale art opportunities at the new UBC Gateway building. Check out our calls for artists page for more information.
Musqueam Academic Awards
Education awards are now available for Musqueam members!
Grade 12
Musqueam graduates from June 2023 can submit a final report card, Dogwood Certificate and BC Ministry of Education transcripts to the education department to receive your award.
Grade 8-11
Musqueam students who are interested in receiving an academic award can submit their final report cards to the education department. The top academic student in each grade will receive an award.
Graduating Musqueam Students
If you are considering attending post-secondary in September, please contact the education department to discuss your plans and get a copy of our funding application package.
Musqueam band members graduating grade 12 are eligible to receive support for graduation costs including dinner tickets, outfits, and photos.
If you need any help, would like to discuss your options, or find out more information about post-secondary funding for Musqueam band members graduating from high school please feel free to email or call the education department.
Education contacts
Faye Mitchell ([email protected])
Lucetta George-Grant ([email protected])
Employment and Training notices
Health notices
Musqueam Farmers Market
Every Thursday afternoon from June 22-September 7
Outside the community centre
Fresh veggies are back at Musqueam!
FREE! Bring your own reusable bag(s).
If you are unable to pick up in person, contact Patricia Isaak (778-239-4325) to request a drop off.
Thank you to our produce contributors:
Musqueam Garden at UBC Farm
Sweet Digz Farm
The Sharing Farm
Athiana Acres
Green Zebra Farm Markets
Flower Bouquet Making Workshop
Tuesday, August 8
Shuttle leaves the Elders Centre at 12:30pm
Lunch and fresh cut flower activity at The Sharing Farm.
Contact Brenda Campbell to register.
Medication education saves lives
Wednesday, August 9
2-3pm
Elder's Centre
$25 gift card and FREE pill box for attendees.
Please bring any medication questions you have!
Call to register: Amana Lalli, Community Health Nurse, at 604-362-9200, or call Musqueam's reception (604-263-3261) and ask to speak with Amana or Arlene.
Fish Canning
Join Kym Stogan and Patricia Isaak for fish canning for community!
Tuesday August 1
11:00 am-3:00 pm
Community Centre Kitchen
Please contact Patricia or Kym to sign up. Limited spaces available.
Patricia contact: (778) 239-4325
[email protected]
Merv's Walking Challenge – POSTPONED
WALK-TO-WELLNESS CHALLENGE
Group sessions Tuesdays and Wednesdays this July & August
10:30am TO 11:30am
Meet at Musqueam Elders Centre
Prizes: Participant's names will be entered in a draw to win a prize for a Fitbit for the
most groups attended.
WHAT TO BRING: Wear comfy walking shoes, preferably runners. Bring a hat, wear sunscreen and please bring any mobility aids that you may use.
WHAT WILL BE PROVIDED: Walking poles, fruit and water as needed. You may bring your own snack if you like.
If you would like for us to pick you up on the way and are not able to meet at the café, please contact Musqueam's reception (604-263-3261) and ask to speak with Amana, Merv or Arlene.
Elders Programming
Ladies Group
Tuesdays from 1-4pm
Elders Centre
Elders' Chair Exercise
Thursday, July 6 at 1pm
Thursday, July 20 at 1pm
Thursday, August 3 at 1pm
Elders' Lunch
Wednesday, July 12 at 12pm
Wednesday, July 26 at 12pm
Wednesday, August 2 at 12pm
Elders Centre
Youth Centre
Summer hours
Monday – Friday
9am-9pm
*closed on statutory holidays*
If your child is younger than 7, they must be accompanied at all times by someone 14 years old or older.
Pediatric Clinic – POSTPONED
Robert and Lily Lee's Groups Pediatric Clinic
July 24, 2023
9am-12pm
Yoga Room at Community Centre
Open to families with children aged 5 and younger.
Join our hygienist for tips on oral care, brushing, cleaning and with your consent flouride and varnish.
12 spots available. 30 minute appointments.
Contact Amana Lalli, Community Health Nurse, at 604-362-9200 to sign up, or call Musqueam's reception (604-263-3261) and ask to speak with Amana, Merv or Arlene.
Diabetes Self-Management Program
Active Transportation: BBQ Dinner and Info Session
Attention all harvesters
Employment opportunities
Municipal Relations Student: The port is seeking a highly motivated full-time post-secondary student to work with the municipal relations team to support engagement programs and activities.
The municipal relations team engages with local governments throughout the port authority's jurisdiction.
Applicants must be full-time student who has completed at least one year of post-secondary education with plans to return to your studies for the spring 2023 semester.
Term contract from August 2023-December 2023